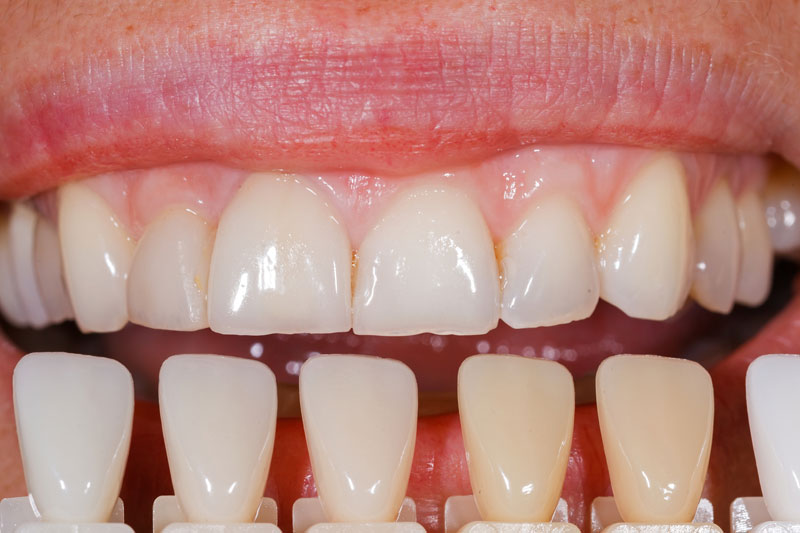 What Are Veneers?
Veneers are a thin, translucent coating made out of porcelain or resin (plastic). They are applied to the front teeth to improve their color, size, or shape. Veneers can help you achieve the smile you want.
Are Veneers Right for You?
Veneers can correct many dental problems. These include:
Teeth discolored from medication or age
Front teeth that are worn or chipped
Gaps and other spaces between teeth
Crooked teeth
| | |
| --- | --- |
| Discolored teeth | Corrected with veneers |
| Chipped teeth | Corrected with veneers |
| Spaces between teeth | Corrected with veneers |
Let your dentist know why you want veneers. If they are not right for you, another type of treatment may be an option.
The Procedure
Veneers may require 2 or 3 office visits from start to finish. Your dentist first examines your teeth. He or she will then discuss what kind of veneers will be used. You and your dentist will choose the right veneer color for your new smile. Your teeth are then prepared for veneers. And the veneers are bonded to your teeth.
| | |
| --- | --- |
| The enamel is reduced. | The veneer is bonded. |
Preparing Your Teeth
Your teeth may be lightly filed. A mold of your teeth is then taken and sent to a lab to make your veneers. Before you leave the office, your dentist may apply temporary veneers. If you don't get temporary veneers, avoid cold foods and drinks. Your teeth may be more sensitive than usual.
Between Visits
Until your next visit, the dentist may tell you to:
Brush your teeth gently and avoid foods that are too cold.
Avoid eating hard foods. They may loosen your temporary veneers.
The cement is hardened.
Your dentist makes sure the color of your veneers is right for your teeth.
Bonding of Veneers
Before bonding, your dentist will fit the veneers on your teeth and check the color. Slight changes in veneer color can be made by varying the color of the cement. The surfaces of your teeth are then cleansed. The veneers are bonded to your teeth with a special cement that is hardened with a high-intensity light. Any excess cement is removed. Finished veneers should feel comfortable.
Call Your Dentist If Your Veneers:
Become uncomfortable
Discolor or chip
Loosen